Introducing Integrative
& Adaptogenic Skincare
Amplify Skin Resilience, Brilliance and Wellness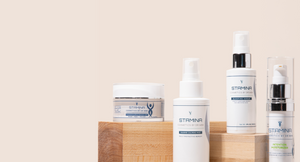 Skincare with a Dose of Stamina
Mindful Skin Care with Uplifting Affirmations and Positive Intentions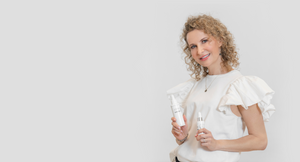 Meet Dr. Marianna
Blyumin-Karasik
Our Founder: An Integrative Dermatologist Extraordinaire
Are You Ready to Increase Your Skin Stamina®?
Meet the new way to optimize skin resilience, skin brilliance and skin balance. We help to cultivate our mind-skin connection and best tune our skin cadence. Stress-coping skincare is here.
Dermatology's first Integrative cosmetics unites Skin Care and Wellness. Our goal is to reduce skin stress with our unique blend of skin Adaptogens, extending skin's longevity and a healthy glow.
Skin care is more than just skin deep. Integrative skin care is Important for our Wellbeing and Stamina!
Shop Now
What Makes Us Different
THE STAMINA® COMMITMENT
Our commitment to you is formulating clean and effective skin-care focused on delivering the best results for the diverse skin types.
Our vision is to advance Skin Stamina® via innovative, adaptogenic, and clinical ingredients, Stamina® Complex.
Our mission is to promote Wellness and Stamina through skin affirmation and integrative skincare ritual, Stamina® Synergy.
Our intention is to elevate our mood and mindset via mindful, sensorial, and functional skin care.
Learn More
What Dermatologists Are Saying
Stamina cosmetics provides a refreshing perspective to skincare, addressing the whole person in order to support their healthiest skin. The mind-body-skin connection is often overlooked in traditional Dermatology practice, and that's where Stamina sets itself apart. By offering intentional formulations, Stamina provides affirmative skincare that renders glowing and resilient skin while also nourishing the mind and heart. It is so refreshing to find a skincare line rooted in holistic care, and founded with the clinical perspective of an expert dermatologist.

As a dermatologist, I highly recommend the soothing sleeping serum featuring hypochlorous acid. It helps reduce acne breakouts and protects against unwanted microbes while soothing and repairing red, irritated, blemish-prone skin overnight. It's a must-have for anyone looking for clear, healthy-looking skin.

Dr. Bilu Martin recommends and carries the Stamina Cosmetic line at her practice, Premier Dermatology, MD.  She loves the mist to soothe and hydrate throughout the day, especially when traveling on planes, when skin tends to become more dry and irritated.  The serum is light and gentle enough for nightly use and won't irritate or break out sensitive skin.  It's great for all skin types, especially those prone to breakouts.  The weekly mask is a great adjunct for those on a prescription acne regimen.

I love the Stamina facial moisturizer. It's silky, not heavy, not greasy, light, really lovely! Congratulations on the beautiful product 👏🏻